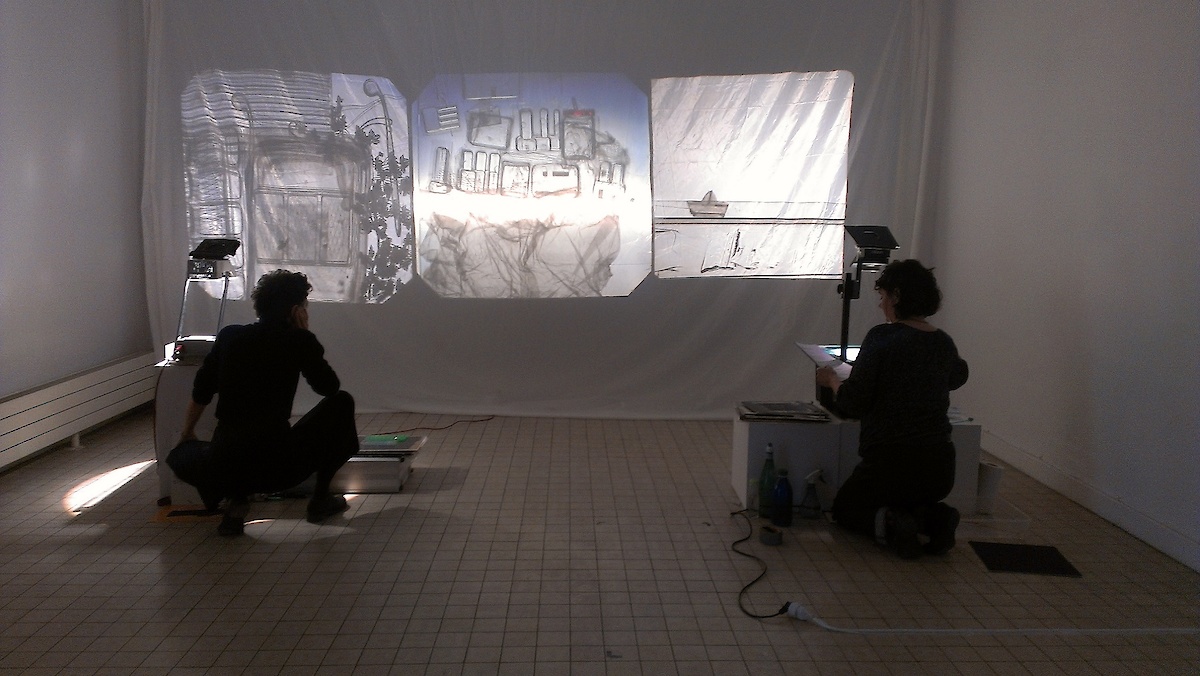 An auteure who is also a plastic artist, a plastic artist who is also a set designer, and a photographer who can sing a ditty make up this team that moves about in the shadows using words, objects, gels, liquids, lights, and in so doing, teleports us to another universe. Nevertheless, this work speaks of us, of us all, of this neighbour named Ms Ev'rybody, of the world surrounding us, touching us, or alienating us : "The neighbour-lady is expansive, as we all know. She has since become extensive as well. Decrease is not necessarily success. Fortunately there are advantages to misfortune. Even when it's done, there's more to do." Chaos or KO in fifteen paintings.
The images are produced live on overhead projectors using elements at hand, we turn nothing down, the digital is reduced to the status of obsolete old junk. We rediscover the "childish" proof that the world would rather we forget : that a bit of plastic wrapper doomed to the bin might easily become the stuff of magic, that blowing into water through a straw can stir up a tempest, that a simple magnet can unleash a tragedy.
And yet, there is no naivete in this merciless world where we play at astonishing and frightening one another, laughing or letting our jaws drop, transfixing ourselves as though to fly paper, three brains scrambled, six hands manipulating, and a text cut into segments always capable of knocking us upside the head.
You have been warned.