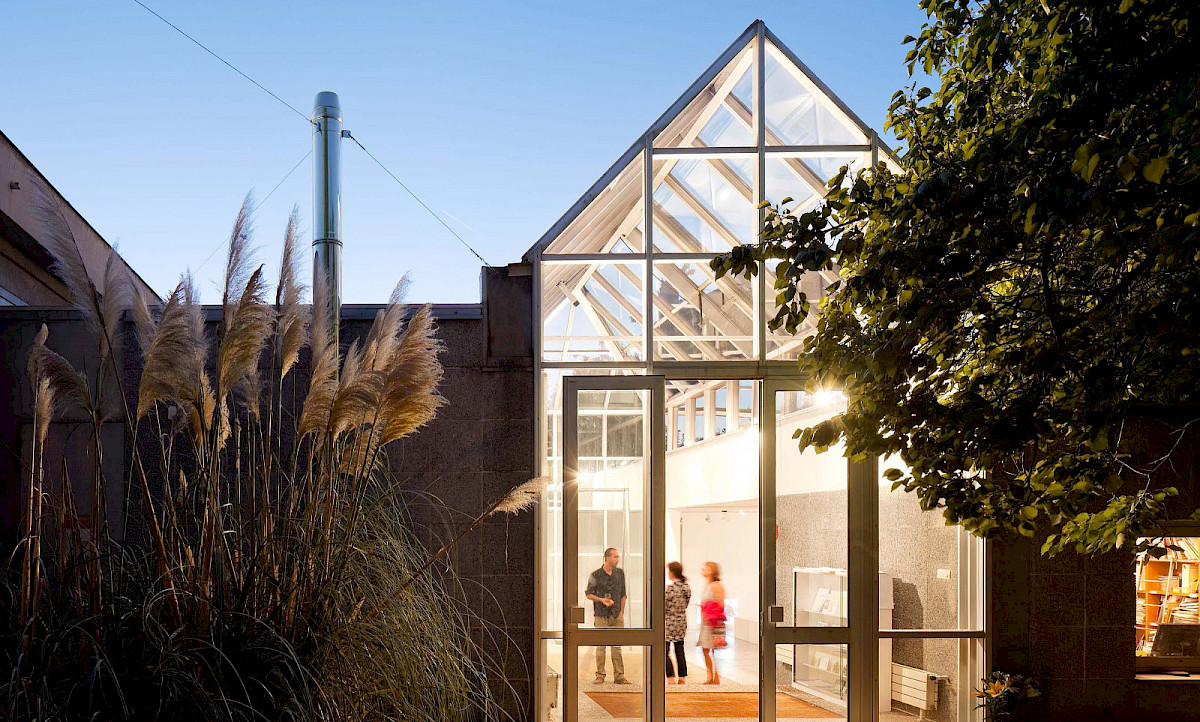 ⌛
History
Located in Clamart, a short train ride away from Montparnasse Station, the Chanot Contemporary Art Centre is a space dedicated to contemporary creative work and open to all. Inaugurated in 1980, what was once an artist's workshop surrounded by garden became a cosy and convivial exhibition space, perfect for discovering unexpected forms of art.
Keen on new modes of creation, conception, and collaboration, the CACC accompanies current artists and promotes encounters between works and the public. Exploration, artistic experimentation, and risk-taking are at the heart of the Centre's programming, which integrates different modes of expression. Music, performances, visual arts, and even culinary arts intersect, intermingle, and inflect one another in projects lasting as long as a subtle gesture or a whole exhibition.
Graphic creation constitutes one of the main axes of the Centre's programme. The "graphic residency" initiative launched in 2013 culminates in a printed artistic work and invites upcoming graphic designers who totally redefine the space's visual identity over the course of their triennial residency.
Schoolchildren, advanced students, groups, and individuals are invited to participate in workshops, "pedagogy kit" ateliers, a laboratory space, and masterclasses encouraging them to explore the visions, methods, and thought processes of invited artists.
Lastly, as part of the Centre's artistic programming, meet-and-greets are yet another way of activating the exhibitions and of renewing the various modes of engagement between the public and artists, so that art might always remain synonymous with learning, pleasure, and shared curiosity.
🌝
Team
Director :
• Madeleine Mathé
Artistic project coordinators :
• Vincent Brou, Léa Djurado, Marine Massicot (intern), Kim Reed
Public Reception and Assistance :
• Magalie Tiraboschi
Scholastic Program Coordinator :
• Géraldine Denza
Scholastic Program Assistant :
• Lucie Gricourt (intern)
Youth Mediator :
• Brigitte Andreetti
Visitor Mediators :
• Mélinda Artal, Derin Demircioglu, Estelle Rigal-Gaime
👍
Partners
The Chanot Contemporary Art Centre is an apparatus of the city of Clamart.
The CACC is a member of TRAM, the Paris/Île-de-France contemporary art network. It is supported by the Minister of Culture's Office of Regional Cultural Affairs of the Île-de-France, by the Regional Council of the Île-de-France, by the Greater Paris Metropolitan Area, and by the Departmental Council of the Île-de-France.