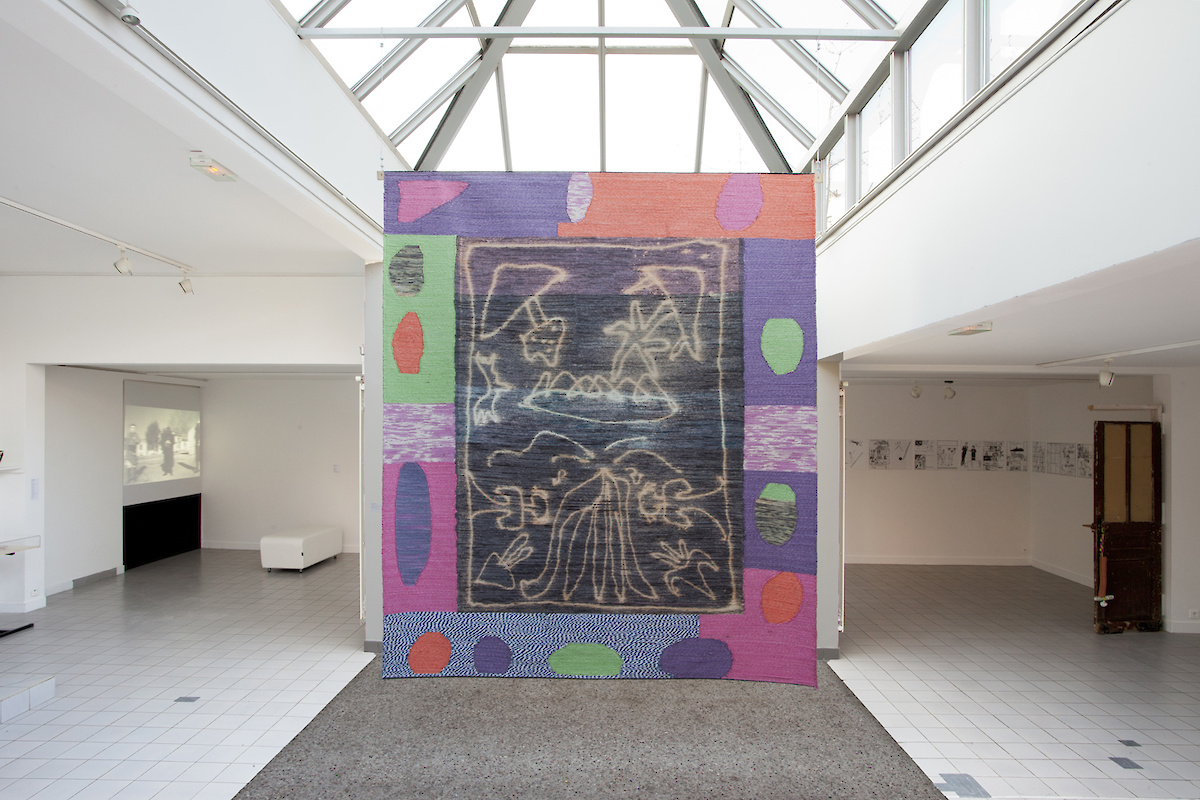 ARTISTS
Guidette Carbonell, Yann Gerstberger, Alexis Guillier, Estelle Hanania, Lamarche et Ovize, Laurent Le Deunff, Christophe Lemaitre et Aurélien Mole, Selma et Sofiane Ouissi, Marie Preston, Bettina Samson, Clémence Seilles, Anne-Lise Seusse, Keen Souhlal, Batia Suter, Sophie Taeuber-Arp, Ulla Von Brandenburg
_
The Chanot Art Center and the Onde Art Center in Vélizy have joined forces to present a common exhibition that establishes an artistic dialogue between two neighbouring territories. The exhibition "Les Récits de l'insu" (Stories of the Unknowing) borrows its title from a phrase used by Michel de Certeau, who, in his book L'invention du quotidien, emphasizes the unconscious or "insus" (unknowing) knowledge transmitted through practice and the oral tradition.
Bringing together academic and folk cultures, the artists have embraced the anthropologist's approach and sought out traditions, immersing themselves in age-old myths and practicing disciplines from antiquity in order to appropriate ancestral skills and ancient rituals.
This two-part exhibition brings together some fifteen artists, both French and international. Emerging artists rub elbows with renowned figures such as Guidette Carbonnell, developing their artistic research through video, photography, sculpture, and drawing.
The artists here have investigated and attempted to go beyond the possibilities offered by folk arts, updating practices such as ceramics, tapestry, and ikebana. They have invented and revisited seasonal rituals, encouraging new non-academic gestures.

Exhibition realized in partnership with Micro-Onde, Centre d'art de l'Onde – Vélizy, and the support of the Fondation Arp, Clamart and the Lavoir/céramiques contemporaines, Clamart.
Our biggest thanks to the following galleries : Art : Concept, Paris ; Mercier & Associés, Paris ; Sorry We're Closed, Brussels ; Semiose, Paris.
Thanks to an ongoing curiosity for silent and subtle practices, non-academic gestures, and spontaneous inventions, artists foster an interest in the anti-disciplinary and free-flowing nature of practices. This quotation is mentioned by Michel de Certeau to evoke the mechanisms of resistance that emerge in the face of standardization. In appropriating stories, images, gestures, collective rituals, but also in inventing unsuspected narrativity, artists are not "object makers". On the contrary, they seek to position themselves on the side of the human being's creative activity in the idea of escaping categorization, conformity, and inventing another aesthetic dimension of the world.
Some works by Marie Preston, Bettina Samson, Anne-Lise Seusse, Alexis Guillier, and Batia Suter have been specially created for the exhibition.