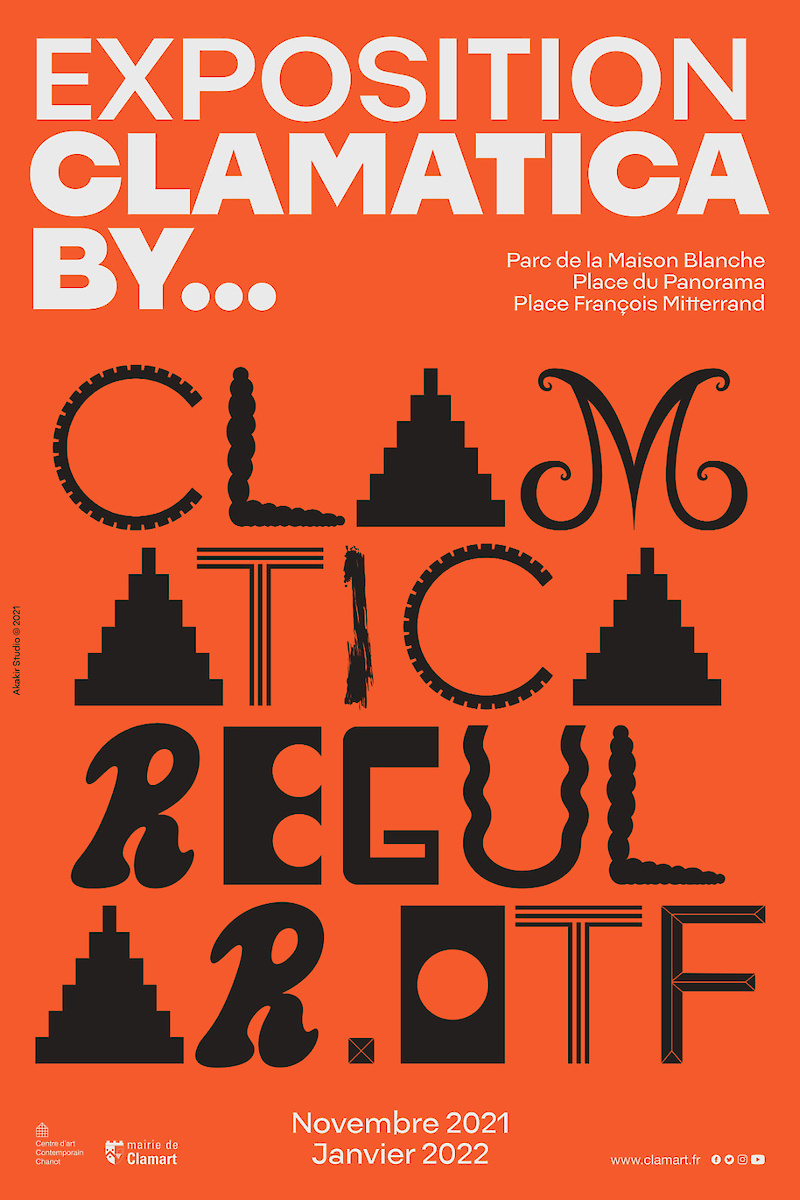 Invited by the Chanot Contemporary Art Center in 2020 and accompanied by the city's cultural affairs department, graphic designer Thibaut Robin worked with residents to create a typography specific to the city. In the summer of 2021, The Clamatica, a 100% Clamartois typography, was finally born. This typeface, free of rights, is now available in open source on the websites of the art center and the City of Clamart.
To give life to Clamatica, the CACC has invited several established French and international graphic designers to use this new typeface to create a poster announcing a traveling exhibition. The visual style is entirely up to the designer, the only constraint being to make the Clamatica appear.
Graphic, colored, and composed, the guest designer's various creations reflect the rich terrain that is today's graphic design. For their first presentation, they will animate the city streets and invite the Clamartois people to the Place Maison Blanche, Place du Panorama, and Place Maurice Gunsbourg, for an exhibition created by the City's Department of Cultural Affairs, dedicated to the Clamartica's creation process.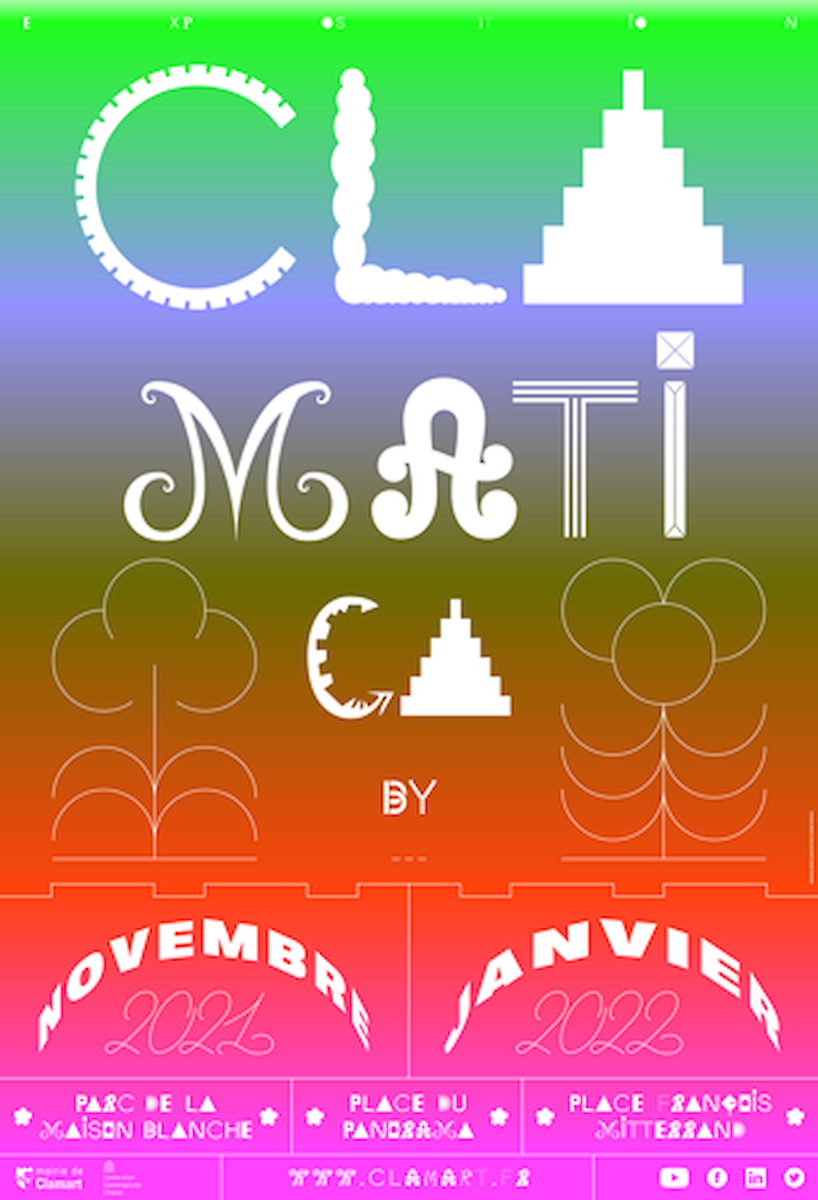 BIOGRAPHY OF WALID BOUCHOUCHI
Walid Bouchouchi (Algiers, 1989) lives and works in Marseille. A graduate of the École Supérieure des Beaux-Arts d'Alger, Walid Bouchouchi founded the design studio Akakir in Paris in 2016. Involved in the cultural field, he provides art direction and graphic design, from typography to illustration. Notably, he has designed the visual identity of various international artistic festivals (Ciné-Palestine in Paris, Aflam in Marseille, Kalima Fiesta in Brussels, Phonetics in Algiers or OneBeat in New York). Creating bridges between different systems of graphic expression, he elaborates a multilingual and multi-scriptural visual language, composed from several languages and alphabets, in which different cultures cohabit. Taking a stand against the homogenization of images in the global culture, his creations proceed from a constant game between a will to deconstruct the dominant visual references and a call for common symbols, drawing notably from popular culture. This work is accompanied by the production of critical and pedagogical tools, marked by their playful aspect, intended to initiate the users to the perception of these new writings.
NAM HUYNH AND MARK BOHLE'S BIOGRAPHY
Nam Huynh and Mark Bohle have been working individually for many years as graphic designers and art directors for a variety of clients and agencies, in different countries and cultural contexts.
They combine conceptual thinking, technical skills, and visual imagination. Their main interest lies in developing a visual and typographic language for multimedia communication. Their work has been awarded several international prizes, such as the Espoir prize at the Biennale de Design graphique de Chaumont in 2021.
GAILE PRANCKUNAITE'S BIOGRAPHY
Gaile Pranckunaite is a graphic designer based in Vilnius, Lithuania, whose work focuses on an experimental vision of typography. She graduated from the Graphic Design Department of Gerrit Rietveld Academy in 2013. She currently works on commissioned projects for various artists, writers, art institutions, museums and universities.
ROUSSET-TEMPLIER'S BIOGRAPHY
Julie Rousset and Audrey Templier form the Paris-based graphic design studio Rousset-Templier since 2014. Trained at the Estienne school and the Arts Décoratifs de Paris, they work mainly in the cultural field for publishing and visual identity projects. Through their projects and collaborations, they explore the publishing object as a research and experimentation field.
Some of their works were added to the collection of the Musée des Arts Décoratifs in 2017. They regularly give lectures in schools and have been teaching graphic design in Paris since 2018.
In October 2020, they will be participating in the graphic design exhibition "Epicene Variations" at the MABA in Nogent-sur-Marne, under the invitation of the curator Vanina Pinter.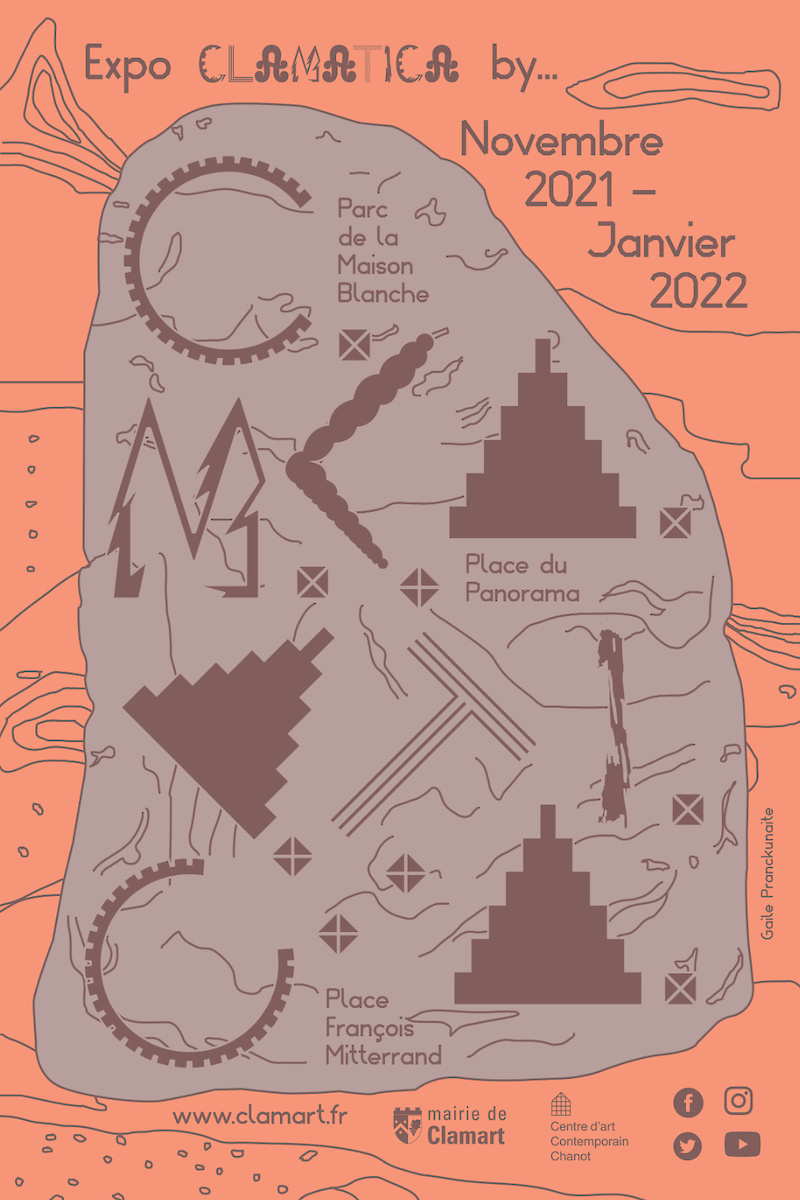 Biographie de Gaile Pranckunaite
Gaile Pranckunaite est une graphiste basée à Vilnius, en Lituanie, dont le travail se concentre sur la une vision expérimentale de la typographie. Elle a été diplômée du Département de Design graphique de l'Académie Gerrit Rietveld en 2013. Elle travaille actuellement sur de projets de commandes pour divers artistes, écrivains, institutions artistiques, musées et universités.
Biographie de Rousset-Templier
Julie Rousset et Audrey Templier forment le studio design graphique Rousset-Templier basé à Paris depuis 2014. Formées à l'école Estienne et aux Arts Décoratifs de Paris, elles travaillent principalement dans le domaine culturel pour des projets d'édition et d'identité visuelle. Elles explorent à travers leurs projets et collaborations, l'objet éditorial comme terrain de recherche et d'expérimentations. Certains de leurs travaux ont intégrés le fond du musée des arts décoratifs en 2017. Elles interviennent régulièrement dans les écoles et enseignent le design graphique depuis 2018 à Paris. En octobre 2020, elles participent à l'exposition de design graphique « Variations épicènes » à la MABA à Nogent-sur-Marne, sous l'invitation de la commissaire Vanina Pinter.