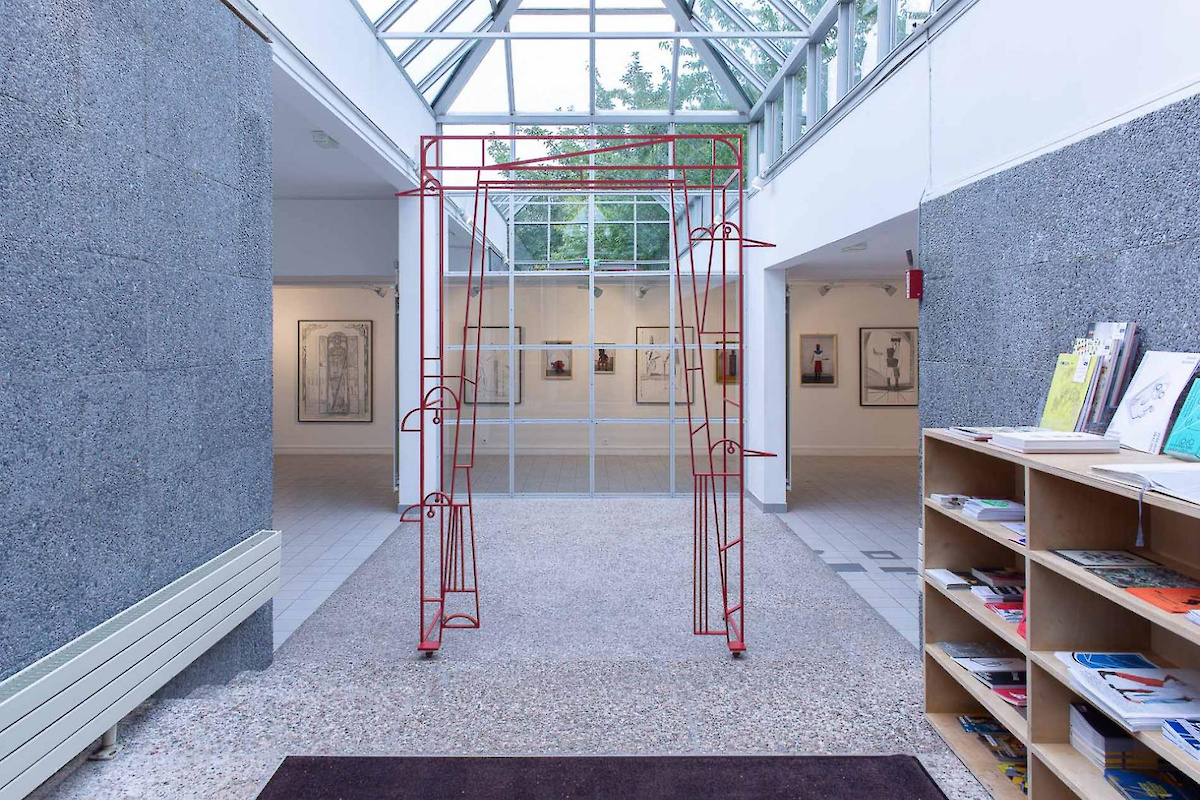 The CACC has given free rein to the contemporary drawing magazine Roven.
« The Forms of the World » are contained in their entirety in a drawing : this is what could be said of the particular works gathered here. With this point of departure in mind, and working intuitively, we have formed the group composed of Io Burgard, Matthiew Cossé, and Dirk Zoete. With these artists, design is the backbone of a properly protean work in which the oscillations are myriad. It acts as the vector that sets the mechanics into motion. It unfolds and turns towards other mediums or towards itself, and generates other works that enrich it in turn. It represents a passage, indeed, a slippage between different states, motifs, techniques, and forms. From volume-rich drawings to photography and murals, be it two dimensions or three, the work emerges and derives from drawing. For Matthieu Cossé, this coming and going takes place from within his artistic practice. The shifting of forms is carried out from one piece to another and between the steps of the creative process, thereby navigating between different "families of drawing". Whether they be observational, fantastic, or closer to caricature or portrait, Matthieu Cossé's drawings allow him to deepen reality and to adapt it, offering an intensified version of it. His drawing shifts from figuration to abstraction, from the deformation (even exaggeration) of forms to realistic observation. Here, humorous drawings—a daily and spontaneous practice—are linked to his other works. Such is the case of the ink mural drawn on wallpaper panels to which adhesive has been amply and loosely applied. This is also the case of the meticulously executed portrait that attempts to capture, as closely as possible, the image that we make of the human face and of its individuality. One might speak of a "state of form" in Matthieu Cossé's work, a state of drawing that searches all things, all the time, in all its materials and in all its dimensions, never hesitating to play with enlargement and exploiting the line—sometimes figurative and detailed, sometimes abstract and spontaneous—both in explosive colour and in black and white. Drawing for Io Burgard is a space of possibility where phantasms and formal desires can develop. Her works on paper evoke doors, tubes, lines, bridges, faces, and identifiable or merely suggested distorted body parts. The relation to the paper's surface is frontal, and the treatment of motifs moves from the planar to the voluminous, as is the case for the plaster frames that she constructs for her drawings and that thereby transform them into neatly delimited or encapsulated objects, or her recent bas-reliefs created from plaster and resin. The volumes on which she can draw or add elements extend her explorations of "a third form, neither drawing, nor sculpture, but both". We have here shifted from drawing-as-tool to drawing-as-material for multidimensional works. The slippage from bidimensionality to tridimensionalty, and vice-versa, is materialised in lines that twist from paper to plaster and circulate between coloured masses, always unfolding in and through the mediums. Io Burgard's works are pieces of the living world—humanoid and organic—simultaneously draping, sinuous, curved, and alive. They suggest the body, movement, multiple visions : a story that writes itself.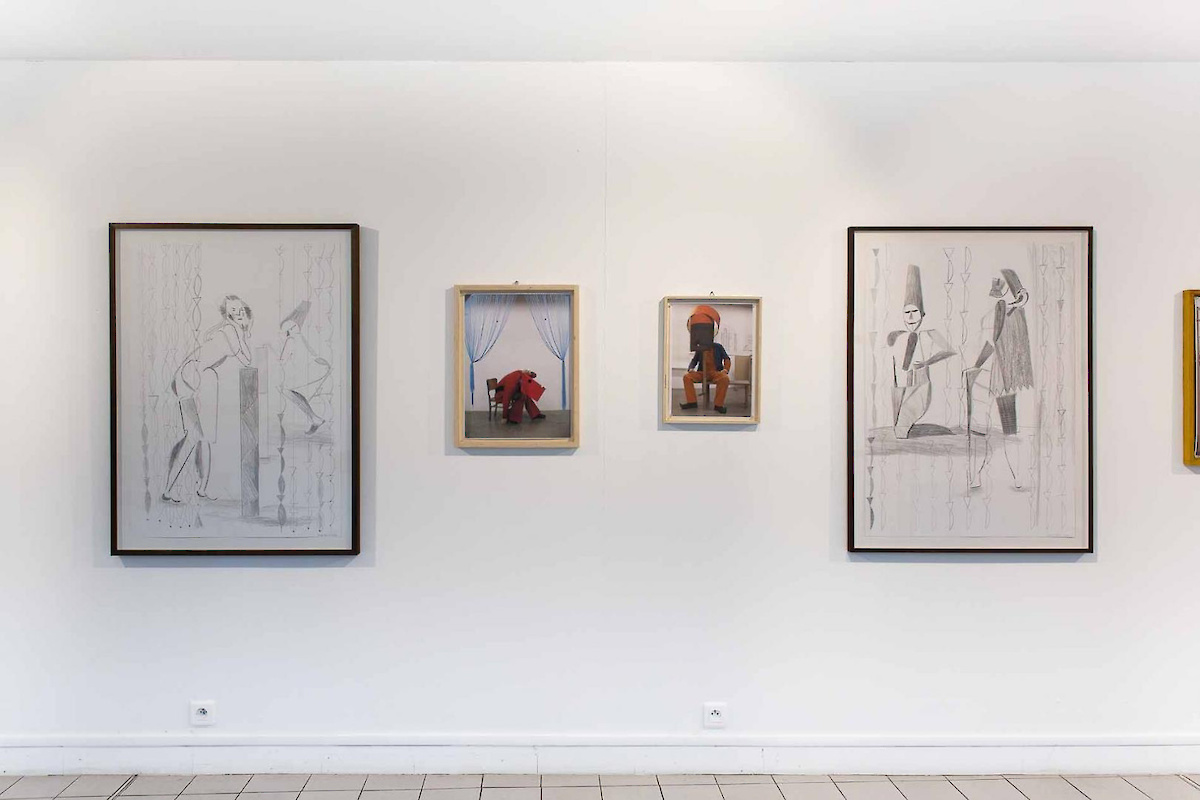 Evoking the bounce of a ball, drawing assumes a circular function in the work of Dirk Zoete. It is the basis of his artistic corpus, which passes through volume, photography, animation and stop-motion film, then returns to the space of drawing, only to relaunch once more. Realised in pencil and in black and white—more recently colour has joined in—his drawings are populated with figures whose garb is almost schematic in nature, dressed in helmets and harnesses, on horseback or in arms, a mix of the architectural and the vegetal. He also creates costumes and masks worn by actors and/or by himself, which he stages as décor, or photographs and retouches through the addition of lines, tubes, and dots : so many geometric symbols that serve to amplify the image. Next, beginning with these "drawing re-enactments", he produces even more drawings. The creation of space takes place through the simplification of the line. Décors and passages—for example, the image of a portico presented in the exhibition—allow us to penetrate into the heart of the work, passing through the threshold that welcomes us into the drawing as though onto a stage, a space of both décor and action. Despite the seeming absurdity of the figures acts and outfits, they nevertheless personify aspects of the human condition.
The exhibition Like Clouds, the Forms of the World Turn into One Another, a quotation of the poet Hans Arp, is fashioned after the drawing that seeks, forms, and unfolds without end, echoing the approach of these three artists. Beyond mere drawing, they maintain a tight relationship between reality and imagination, figuration and abstraction, by playing with representations of the body : disguised or highly adorned in the work of Dirk Zoete, fragmented in the work of Io Burgard, real or dreamed in the work of Matthieu Cossé. Humour is another element that unites these artists, be it absurd, grotesque, strange, playful—all modes that provide the necessary distance for reinventing the world. Several formal vocabularies—lacking a shared vanishing point or horizon—are thus put into dialogue with one another. A handful of lines alone are capable of creating spaces and figures, in the same way that the illusion of depth might suggest a mass.
Anything that can be drawn converges here.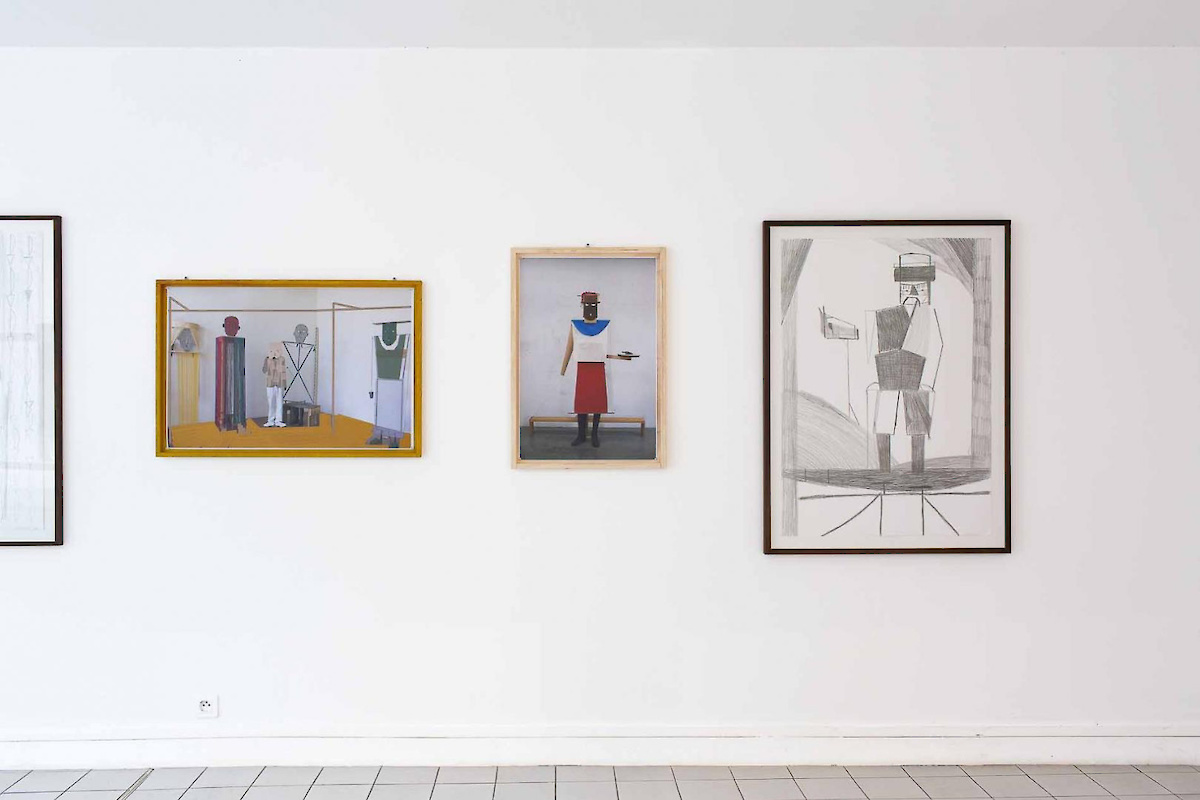 ROVEN EDITIONS
Roven éditions was founded in 2008 by Johana Carrier et Marine Pagès. It is a French nonprofit publishing organization and publishes Roven, a critical review for contemporary drawing, as well as works on contemporary art and drawing. Roven is a critical review for contemporary drawing (with thirteen issues to this day). It began in 2009, and, since 2015, has become an annual review. Roven broaches the multiple practices of drawing. Its critical approach showcases the manner in which drawing is practiced, utilised, distorted, and referenced in order to create dialogue around the medium and contemporary art in general. Since 2011, Roven éditions publishes monographic works and essays on contemporary art, with an emphasis on those dealing with contemporary drawing. They form three collections : Conversations (interview and portfolio), Perspectives (theoretical essays), and Aires (monographs).
Johana Carrier is a publisher, curator, and freelance translator based in Paris. Since 2009, she has been co-publisher of Roven éditions, co-editor-in-chief of the review Roven, as well as a founding member of the curatorial collective entitled Plateforme Roven. She is currently working alongside Joana P. R. Neves on the German artist Irba Blank's first retrospective. The first component will open in May 2019 in Culturgest, Lisbon. She has most notably been co-curator of the following exhibits : Outiller le dessin, La Panacée, Montpellier (2016), Rituels, répétitions, contraintes, tentations, first component : group exhibit, second component : Reto Pulfer, MRAC Sérignan (2015), and La Méthode graphique et autres lignes, Galerie Édouard-Manet (2010).
Marine Pagès is an artist, publisher, and teacher who graduated from the École Nationale Supérieure des Beaux-Arts de Paris. Her creative work on space perception primarily hinges on drawing and the volume. She has participated in numerous exhibits, such as, most recently : Dépaysements II, Angle, Saint-Paul-Trois-Châteaux ; Papel, papel, Galerie Bernard Jordan, Paris ; Outiller le dessin, La Panacée, Montpellier ; À l'heure du dessin, 4e temps, Château de Servières, Marseille. Since 2009, she has been co-publisher and co-editor-in-chief of Roven, a critical review on contemporary drawing. She is also a member of the Plateforme Roven collective.
https://www.roveneditions.com/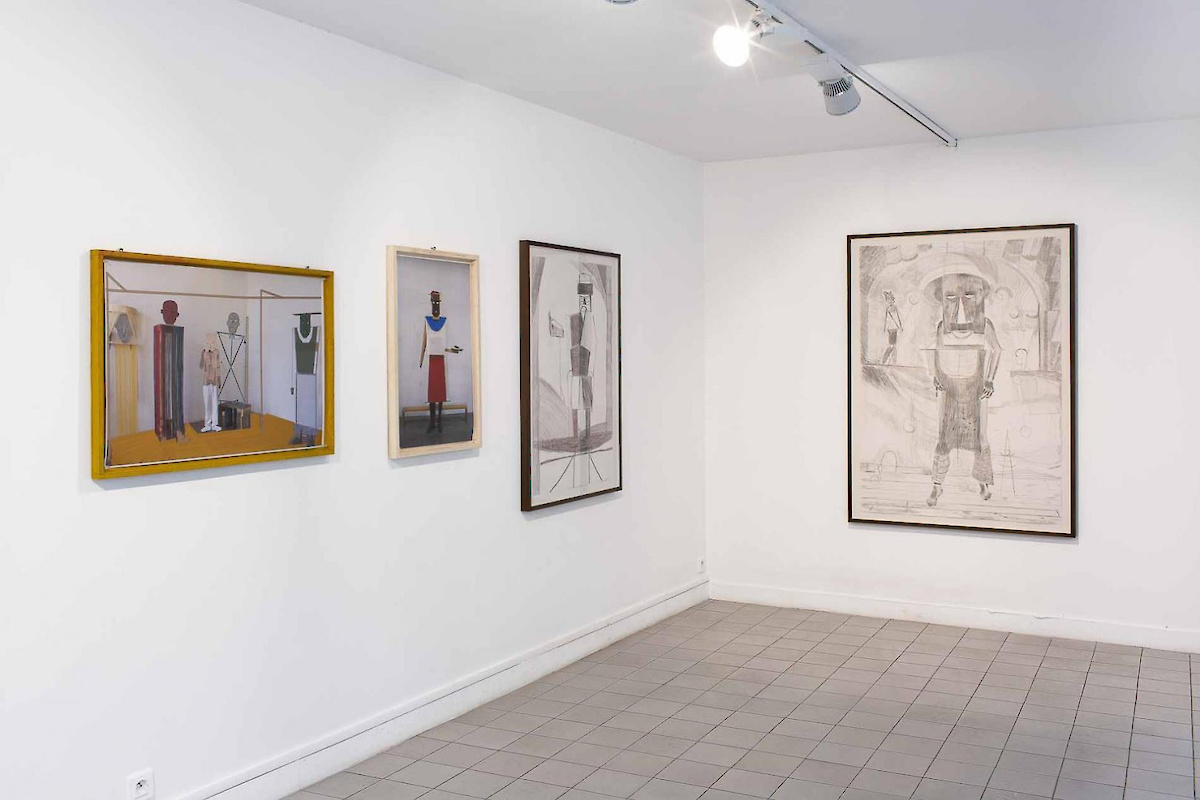 BIOGRAPHY OF IO BURGARD
Io Burgard was born in Talence, France in 1987. She lives and works in Paris. She began her training at the École des Arts Décoratifs in Strasbourg, France under the direction of Guillaume Dégé. In parallel, she joined the École Nationale Supérieure des Beaux-Arts de Paris, where she continued her studies in the atelier of painter Jean-Michel Alberola before graduating in 2014. In 2015, her first solo show was held at Premier Regard on a proposition by Florence and Daniel Guerlain. That same year, she obtained a residency with the Fondation Hermès at the Seloncourt Factory, which resulted in a 2017 exhibit at the Palais de Tokyo. In 2018, her monographic exhibition entitled La Bête dans la jungle was held at the MRAC in Sérignan on an invitation by Sandra Patron. Her work has also been shown by Nicolas Bourriaud at Galleria Continua, several editions of the Drawing Now Paris fair, and Maïa Muller Gallery, which represents the artist.
BIOGRAPHY OF MATTHIEU COSSE
Matthieu Cossé was born in 1983. He works and lives in Paris. A blend of observation and imagination, Matthieu Cossé's work calls upon both intuition and a certain distancing. His drawings Biographies represent still lifes, figures, portraits, humors, and landscapes. In 2018, his work was shown at the Quadrilatère de Beauvais in the Paris-peinture exhibition at the Villa Noailles for the Design Parade and fashion festival, as well as at Mains d'Œuvres for the Quart d'heure américain exhibit.
www.matthieucosse.com

BIOGRAPHY OF DIRK ZOETE
Dirk Zoete was born in 1969. He lives and works in Gand, Belgium. A means of thinking and mirror that allows him to see and create his artworks, drawing is the foundation for his models, sculptures, architectural constructions, photography, films, and other drawings. Most recently he has had solo shows at Gallery Fifty One, Antwerp, BE (2018), Be-Part, Waregem, BE (2016), and S.M.A.K., Gent, BE (2017). The artist is represented by the following galleries : ZINK, Waldkirchen, DE, Fifty One Gallery, Anvers, BE, Maurits van de Laar, Den Haag, NL.

www.dirkzoete.be