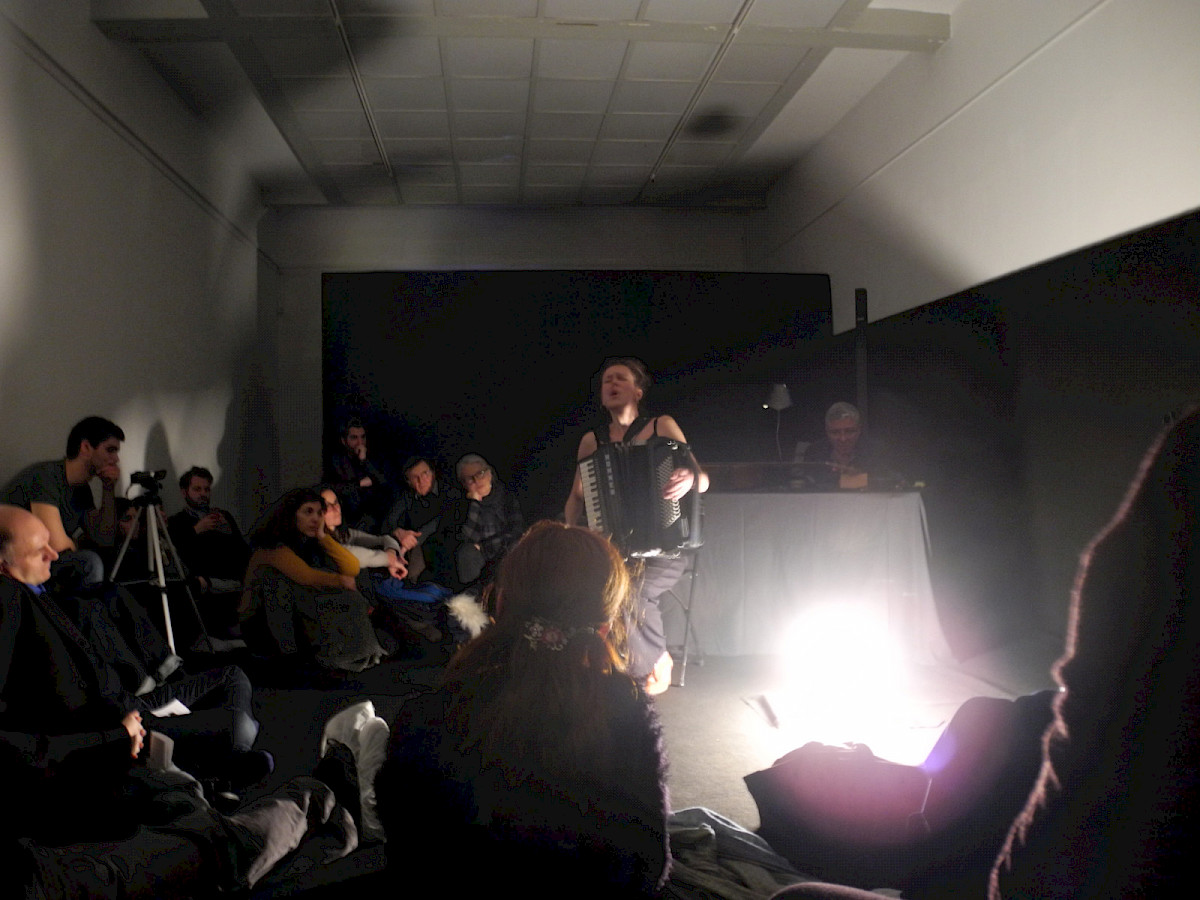 Violaine Lochu has asked musician and composer Pierrick Hardy to reinterpret the scores of her performance Hybird, which she will subsequently play. The curator Anne-Laure Chamboissier will interview the two artists about their relationship to the score and to writing. During this event, Hybird—a book-object created with the graphic designer Christophe Hamery—will be presented.
Hybird, Performance, 30 minutes
With the support of the Centre National des Arts Plastiques and the CAC La Synagogue de Delme of the Ricklundgarden Museum (Sweden). Great horned owl, northern waxwing, capercaillie, bittern, wood pigeon, mimicking titmouse, tree chaffinch, willow ptarmigan… Violaine Lochu's research into bird song in France and Lapland continues. In an exercise of hybridization (much more than imitation) that engages both her voice and entire body, she reinvents herself as a bird-woman (perhaps echoing the sirens of mythology, which are also important figures in her work). The accordéon— played, scraped, and struck—accompanies this metamorphosis.
Hybird
Published by Violaine Lochu, CD booklet, 2018. Production Pierrick Hardy, graphic design Christophe Hamery.
BIOGRAPHY OF PIERRICK HARDY
Pierrick Hardy is a composer, arranger, guitarist, and clarinet player. Throughout his career, his music has been enhanced by a variety of influences, such as the classical, contemporary, traditional or jazz repertoires, but also the realms of visual arts and literature… He is the founder of L'Ogre Intact, the creator of the guitar solo Lignes D'Eire, and has participated in the following productions : Jusqu'au dernier souffle (Catherine Delaunay), Murmures (Yves Rousseau), and L'Opéra de quat'sous at the Théâtre 71 in Malakoff…
BIOGRAPHY OF ANNE-LAURE CHAMBOISSIER
Anne-Laure Chamboissier is an art historian and curator. In 2013, she created ChamProjects, a project dedicated to a transversal reflection around the question of sound and its relation with different disciplines such as film, visual arts, and literature, as well as to the projects around those historical artistic figures whose work continues to have a resonance within contemporary creation in all its most varied forms.